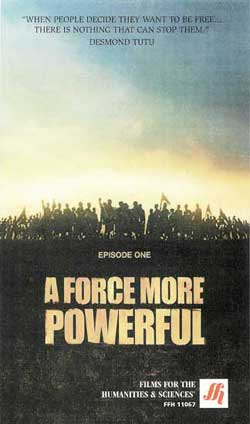 Here is a little about a movie that is a must see. A Force More Powerful, a three-hour documentary series, explores one of the 20th century's most important but least-understood stories - how nonviolent power overcame oppression and authoritarian rule all over the world. Narrated by Ben Kingsley, it premiered on PBS in September 2000.
The film is about three non-violent 'revolutions' that occurred this century - in India in the 30s, Black America in the late 50s and South Africa in the 80s. The makers of this film have done a good job of choosing to reduce the temporal scope of the documentaries, resulting in a detailed study of the actual logistics of civil disobedience. They have managed to obtain some amazing footage, in each of the three cases, that i had not seen before - such as the reactions of white store-owners in tennessee, and the riots in the townships of south africa.
Also Check out the Book.